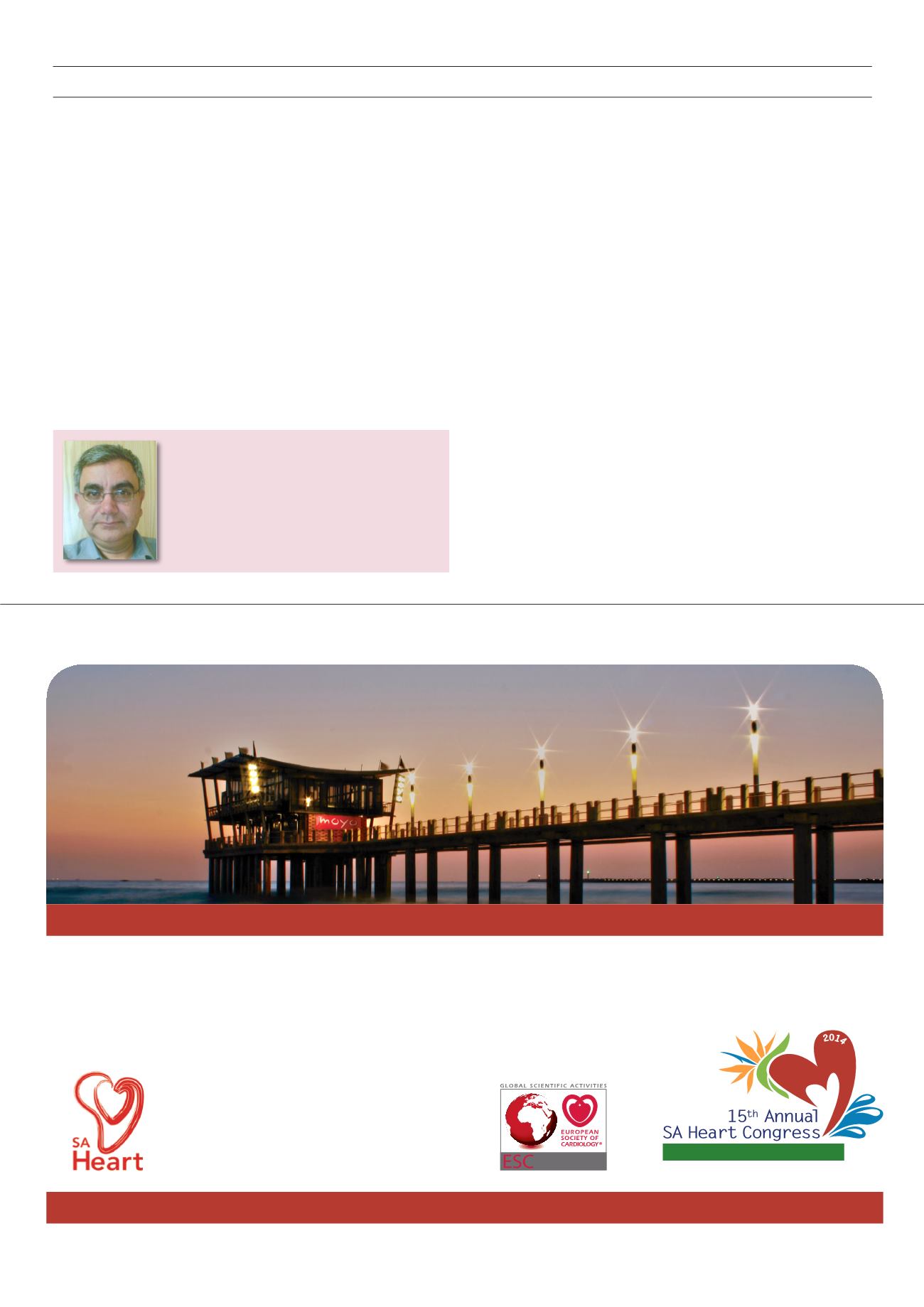 SA JOURNAL OF DIABETES & VASCULAR DISEASE
The role of allied health practitioners in diabetes care
T
his edition examines the important role of allied health
practitioners in the management of diabetes and also
looks at potential risks associated with medication.
Shanahan gives an excellent review of the spectrum of diabetes-
associated disease covered by physiotherapy, as well as the
principles of management. Areas covered range from neuropathic
joints to adhesive capsulitis.
Brown reviews the psychological aspects of diabetes. These are
often overlooked in busy practices and hospitals in South Africa,
but contribute greatly to quality of life, and need to be detected
and managed appropriately. Important topics range from eating
disorders to depression and more.
Rabilal looks at the multidisciplinary approach to cardiac re-
habilitation. Cardiac complications are common in diabetes, and
rehabilitation forms an important part of comprehensive manage-
Dhada and colleagues provide valuable insight into their
experience in running a paediatric/adolescent diabetes clinic in a
resource-limited setting.
Kruse reviews the effect of systemic drugs on diabetic retinopathy.
The effect of erythropoietin, aspirin and other drugs are explained.
These are important clinical considerations.
Ramsunder looks at the debate on benefit or harm produced by
incretins. New drugs on the market need to be carefully examined
for potential risk. As always, clinicians should assess the risk–benefit
ratio when prescribing medication.
Correspondence to: Dr FA Mahomed
Principal endocrinologist, Department of Internal
Medicine, Grey's Hospital, Pietermaritzburg
S Afr J Diabetes Vasc Dis
11
EUROPA ORGANISATION AFRICA
Tel +27 11 325 0020
Fax: +27 11 325 0028 or 0865 102 208
Email info
eoafrica.co.za
15th ANNUAL SA HEART CONGRESS
International Convention Centre
Bridging the Divide 16 - 19 October 2014
SA Heart Congress 2014 will be held in Durban, from 16 – 19 October, with the central theme being 'Bridging the Divide'. This is
the divide that exists between current best practice – and the challenges encountered in implementing these ideals. All medical
and allied professionals with an interest in cardiac health are warmly invited by the organising committee to attend.
Website
at the SAHeartAssociationCongress
REGISTRATION & ACCOMMODATION BOOKINGS OPEN