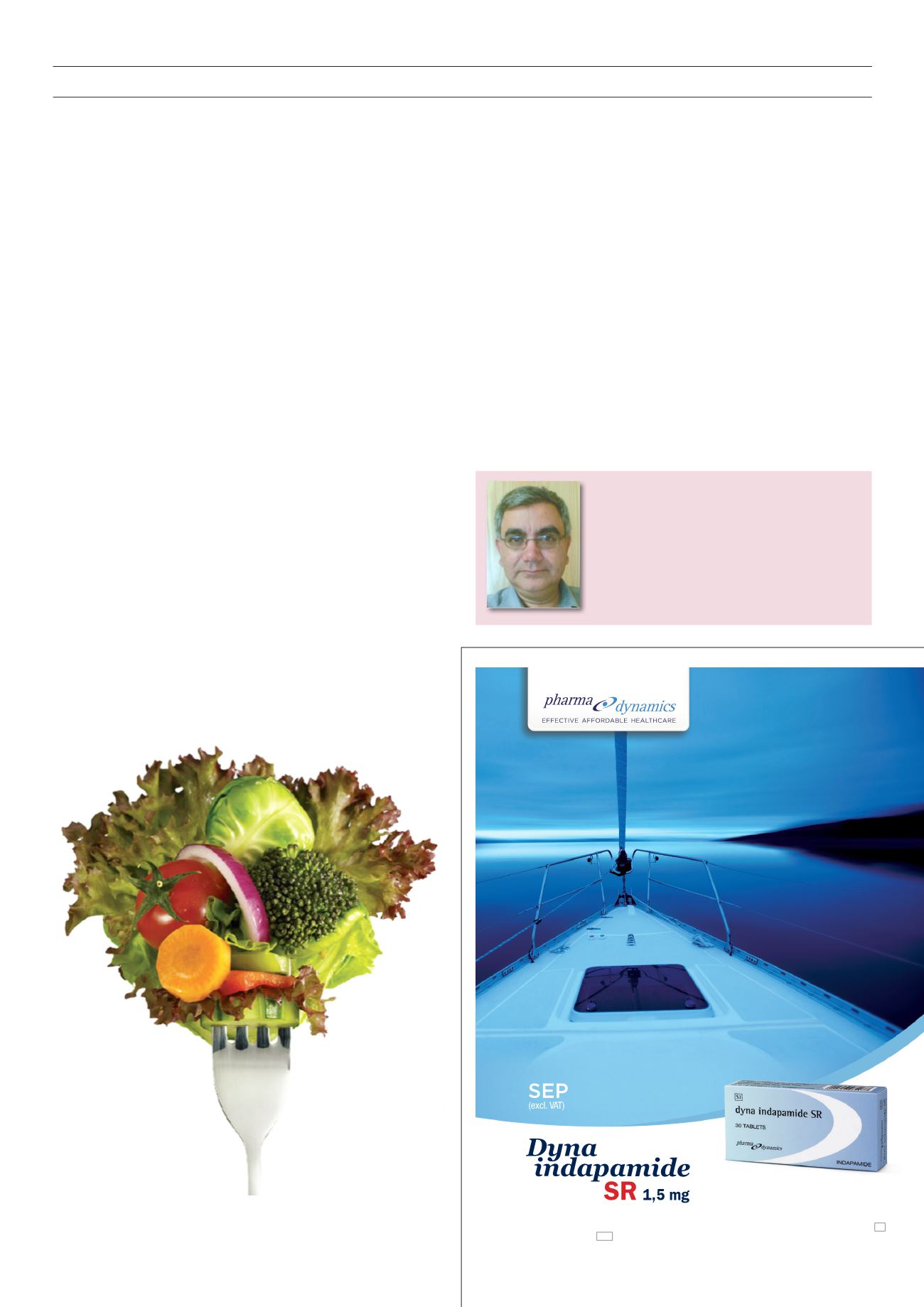 VOLUME 13 NUMBER 1 • JULY 2016
3
SA JOURNAL OF DIABETES & VASCULAR DISEASE
EDITORIAL
Correspondence to: FA Mahomed
Head of Clinical Unit: Endocrinology, Department
of Internal Medicine, University of the Free State,
Bloemfontein
e-mail:
MahomedFA@ufs.ac.za
S Afr J Diabetes Vasc Dis
2016;
13
: 3
From the Editor's Desk
T
his issue looks at important aspects of the epidemiology of
diabetes in Africa and India. Studies by Akintunde
et al
. from
Nigeria (page 13), Pessinaba
et al
. from Senegal (page 27),
Mondo
et al
. from Uganda (page 31) and Das
et al
. from West
Bengal (page 37) all show a striking similarity in the high prevalence
of hypertension, the metabolic syndrome and other cardiovascular
risk factors in patients in these countries. This represents a
significant health risk for diabetes and cardiovascular diseases in
their populations, and specific programmes for the management
and prevention of non-communicable diseases in these countries
need to be urgently addressed.
Heart failure is a significant complication of many non-
communicable diseases. Ogah
et al
. from Nigeria (page 20) report on
data from the Abeokuta Heart Failure registry that looked at short-
term outcomes after admission for heart failure. They found that this
cohort in Nigeria differed from those in high-income countries. The
patients were relatively younger and presented with non-ischaemic
risk factors for heart failure, such as hypertensive heart disease. They
concluded that region-specific strategies are required to improve
health outcomes in low-income countries such as Nigeria.
Maries and Manitiu from Romania (page 40) review B-type
natriuretic peptide (BNP) and the N-terminal fragment (NT-pro-
BNP) and their various uses, including the diagnosis of congestive
heart failure and the distinction between patients with dyspnoea
of cardiac or pulmonary origin. Reference values for the tests
differ depending on the patients on whom they are used and
the manufacturer, therefore determination of reference values
represents a challenge.
Veigne and co-workers carried out an interesting study in
Cameroon on the effect of different altitudes from 13–1 600
metres above sea level, on HbA
1c
measurements from point-of-
care analysers in diabetic patients. They found little difference
SUSTAINED
RELEASE
METABOLICALLY
NEUTRAL
1
only generic
1,5 mg
sustained release
formulation
R33
,19
2
Dyna Indapamide SR.
Each sustained release tablet contains 1,5 mg indapamide. Reg. No.: RSA S3
A42/7.1/0790. NAM NS2 12/7.1/0138. For full prescribing information, refer to the package insert approved
by the Medicines Control Council, 25 November 2011.
1)
Weidmann P. Metabolic profile of indapamide
sustained-release in patients with hypertension. Drug Safety 2001;24(15):1155-1165.
2)
Department of
Health website.
http://www.mpr.gov.za
– Accessed 06/06/2016.
DIND223/07/2016.
CUSTOMER CARE LINE
0860 PHARMA (742 762)
www.pharmadynamics.co.za
A Lupin Group Company
but recommend further calibration studies against gold-standard
measures.
Hapunda and colleagues assessed the validity of a Zambian
version of the Problem Areas in Diabetes (PAID) scale to determine
levels of diabetes-specific emotional distress in Zambian people with
diabetes. They found it to be reliable and valid to assess distress
but some items needed to be simplified or clarified to enhance
comprehensibility. They also found the Zambian participants
had high levels of diabetes-specific distress, which needs to be
addressed.
The patient leaflets look at women's andmen's specific challenges
with regard to diabetes, from depression to gestational diabetes in
women, and erectile dysfunction as an early warning of possible
health problems in men. The need for being proactive with one's
health is emphasised.