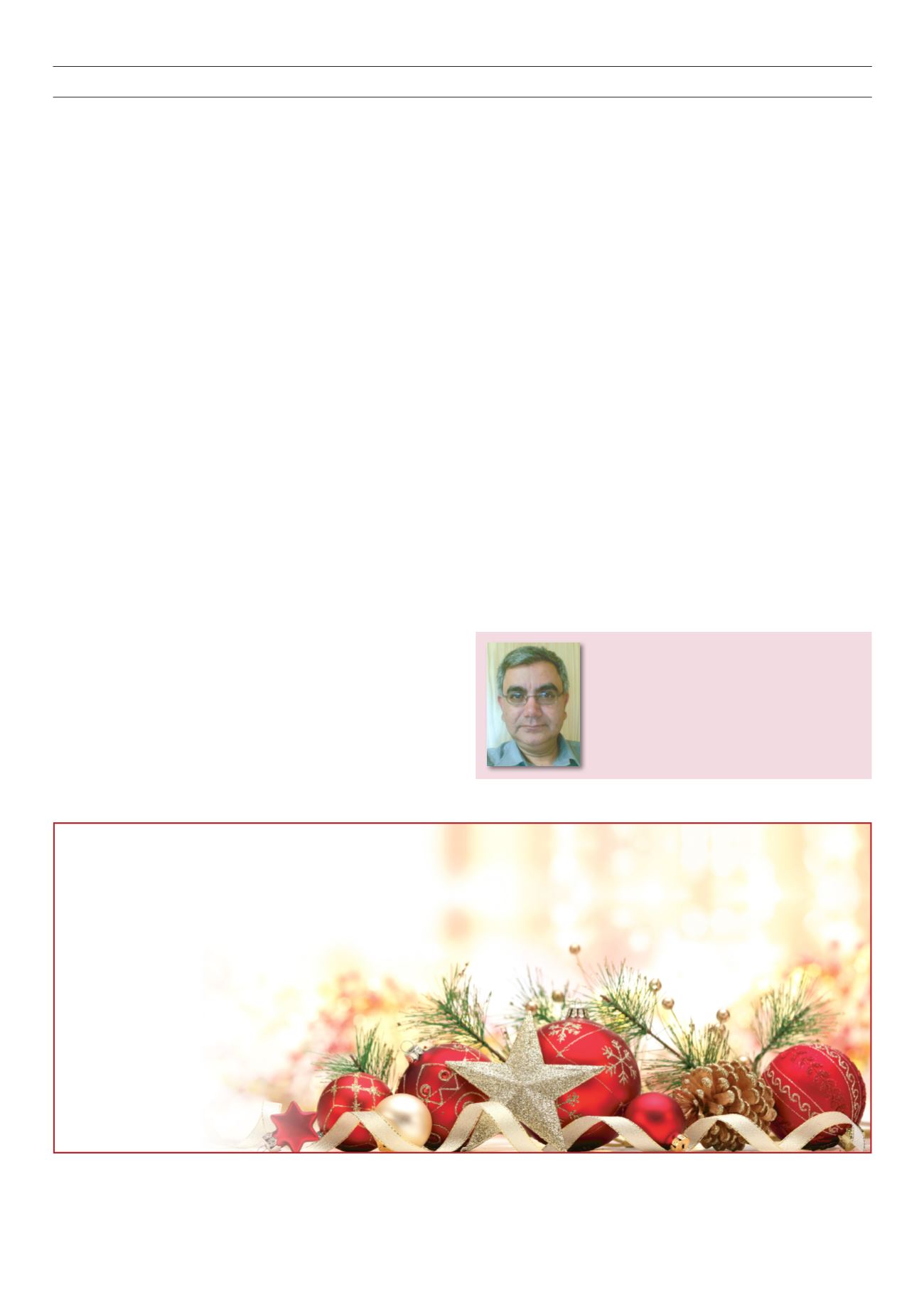 VOLUME 14 NUMBER 2 • DECEMBER 2017
43
SA JOURNAL OF DIABETES & VASCULAR DISEASE
EDITORIAL
From the Editor's Desk
Correspondence to: FA Mahomed
Head of Clinical Unit; Endocrinology, Department
of Internal Medicine, University of the Free State,
Bloemfontein
e-mail:
MahomedFA@ufs.ac.za
S Afr J Diabetes Vasc Dis
2017;
14
: 43
T
his issue examines mainly cardiovascular disease risk factors in
Africa. Macia and colleagues studied obesity in Senegal, with
a focus on rural versus urban trends (page 74). One of the
consequences of urbanisation in developing countries is increasing
rates of obesity and its adverse sequelae, as seen in Nigeria as well.
1
Subgroups of the population, such as young women, have high
rates of obesity in both urban and rural settings and this needs to
be investigated further and dealt with.
Onen also shows high obesity rates in Botswana and, worryingly,
the metabolic syndrome correlates are also high (page 44). While
Botswana's economy is doing well,
2
consequences such as reduced
reliance on traditional diets
3
may be leading to adverse health
effects, such as obesity.
Kingue
et al.
examined the metabolic syndrome correlates for
coronary artery disease in areas in sub-Saharan Africa (Cameroon,
Madagascar, Nigeria and Democratic Republic of Congo) and also
show high levels of these risk factors (page 50). The implication is
that many countries in Africa are sitting on a time bomb of non-
communicable diseases, in addition to the traditional communicable
disease burden that they already have.
4
Is it time to look more
extensively at interventional policies on a local, regional or even
continental scale?
Furat and co-workers, in a study in Istanbul, Turkey, looked at the
beneficial effect of telmisartan in reducing microalbuminuria after
coronary artery bypass grafting in patients with diabetes (page 57).
This is compatible with the known beneficial effects of angiotensin
receptor blockers.
5
Celik
et al
. researched red cell distribution values (RDW) as a
correlate of extensive coronary heart disease in diabetes (page 61).
It is a readily available and cheap test and may help with clinical
decisions in low-resource settings. RDW has been linked to adverse
outcomes in patients with coronary artery disease, heart failure and
stroke.
6,7
One of the issues with RDW is whether its measurement
is standardised enough to be of use,
8
and another is whether it
contributes materially to clinical assessment.
9
Its role is still unclear.
References
1.
Ekpenyong BC. Urbanization drift and obesity epidemic in sub-Saharan Africa:
A review of the situation in
Nigeria. Eur J Sustain Devel
2013;
2
(4): 141–164.
https://doi.org/10.14207/ejsd.2013.v2n2p141.
2.
Acemoglu D, Johnson SH, Robinson JA. An African success story: Botswana.
SSRN Electronic J
2001.
https://doi.org/10.2139/ssrn.290791.
3.
Maruapula SD, Jackson JC, Holsten J, Shaibu S, Malete L, Wrotniak B,
et al
.
Socio-economic status and urbanization are linked to snacks and obesity in
adolescents in Botswana.
Public Health Nutr
2011;
14
(12): 2260–2267. https://
doi.org/10.1017/S1368980011001339.
4.
Boutayeb A. The double burden of communicable and non-communicable
diseases in developing countries.
Trans R Soc Trop Med Hygiene
2006;
100
(3):
191–199.
https://doi.org/10.1016/j.trstmh.2005.07.021
5.
Saitoh S, Takeishi Y. Pleiotropic effects of ARB in diabetes mellitus.
Curr Vasc
Pharmacol
2011;
9
(2): 136–44.
https://doi.org/10.2174/157016111794519363
6.
Alimehmeti I, Mino L, Siqeca M, Goda A. Association of RDW (red blood cell
distribution width) with the presence and severity of coronary artery disease:
a large Albanian study.
Clin Chem Lab Med
2015;
53
: S504. https://doi.
org/10.13140/RG.2.1.1894.0005
7.
Çetin M, Kocaman SA, Bostan M, Çanga A, Çiçek Y, Erdo˘gan T. Red blood
cell distribution width (RDW) and its association with coronary atherosclerotic
burden in patients with stable angina pectoris.
Eur J Gen Med
2012;
9
(1), 7–13. Retrieved from
http://dergipark.ulakbim.gov.tr/ejgm/article/
download/5000114755/5000106752.
8.
Lippi G, Pavesi F, Bardi M, Pipitone S. Lack of harmonization of red blood cell
distributionwidth (RDW). Evaluation of four hematological analyzers.
Clin Biochem
2014;
47
(12), 1100–1103.
https://doi.org/10.1016/j.clinbiochem.2014.06.003.
9.
Loveday S, Sinclair L, Badrick T. Does the addition of RDW improve current ICU
scoring systems?
Clin Biochem
2015;
48
(9), 569–574.
https://doi.org/10.1016/j.
clinbiochem.2015.04.002.
The management and staff of Clinics Cardive Publishing wish you and your family a wonderful
holiday season and a healthy and peaceful 2018. May your holidays be filled with joy, peace
and good cheer!
We take this opportunity to thank you for your loyal support during 2017 and look forward to
being of service during 2018.
Please note our offices will
close on 15 December and
will be open from
08 January 2018.