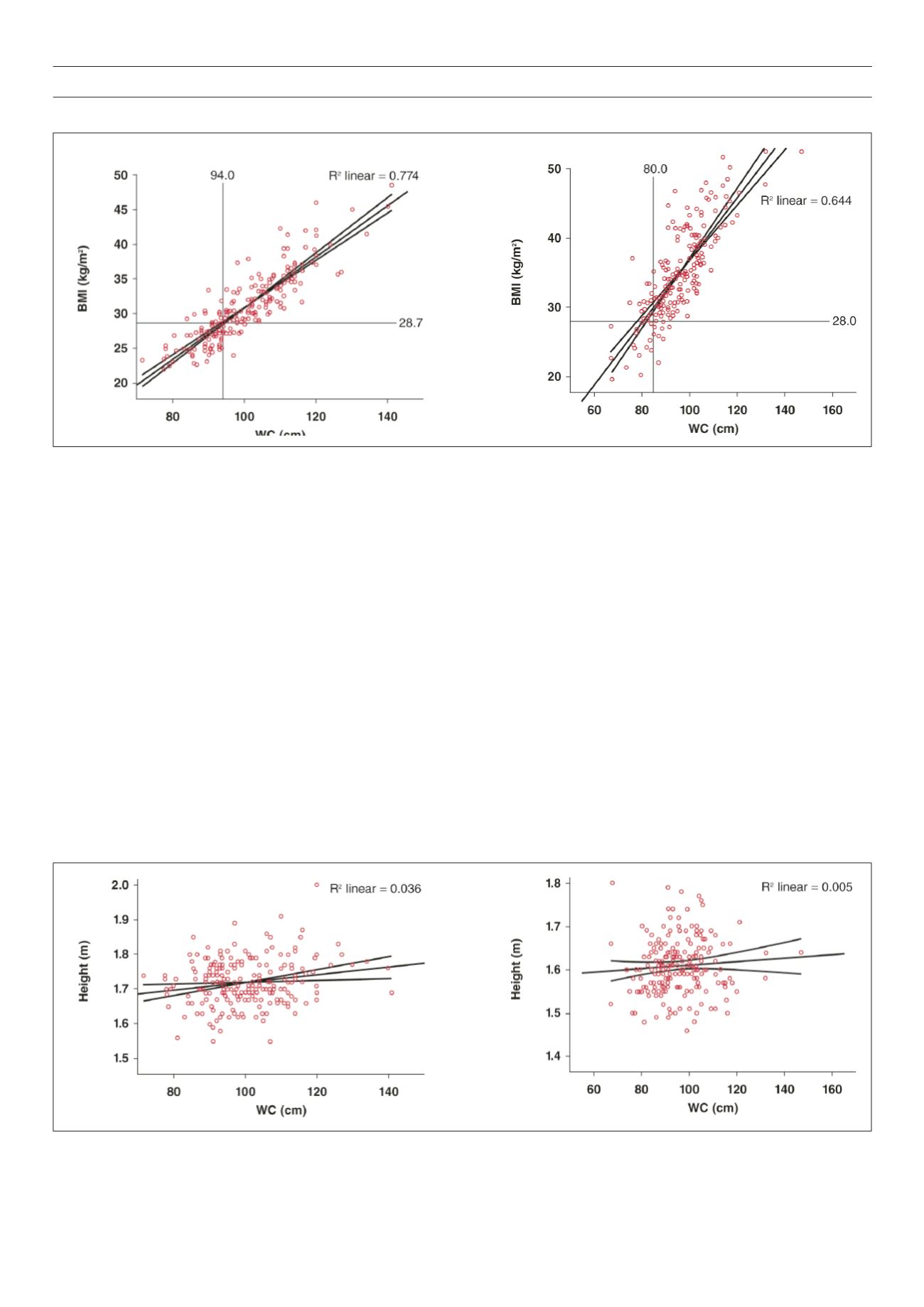 RESEARCH ARTICLE
SA JOURNAL OF DIABETES & VASCULAR DISEASE
46
VOLUME 14 NUMBER 2 • DECEMBER 2017
Discussion
There are strong indications for examining body size in the current
context of affluence, social marketing and food consumption in
Botswana. Anthropometric measurements are frequently used to
determine parameters of overweight and obesity at most points
in the healthcare system and during many 'wellness' programmes.
Knowing that a person's BMI exceeds 30 kg/m
2
may be useful
only in understanding the individual's potential cardiometabolic
risk and total burden of co-morbidity. After all, obesity may be
an epiphenomenon for other cardiovascular disease risk factors.
But failure to recognise obesity as a major health issue and its
complex social and societal construct may camouflage the problem
and propagate inherent imperfections of the obesity-screening
processes.
Cataloguing BMI, WC and sometimes waist:hip ratios may
not reflect their correlation to obesity-related sequelae. There are
medically healthy obese individuals and metabolically obese normal-
weight individuals, although the prevalence of these conditions
in this community is unknown. National anthropometric data are
scarce or unavailable.
The growing prevalence of overweight and obesity sweeping
southern Africa, with a national prevalence between 30 and 60%
of populations over the age of 15 years, is largely due to dietary
shift away from high-fibre, low-calorie diets rich in fruits and
vegetables towards refined, energy-dense foods high in fat, calories,
sweeteners and salt, and this affects females disproportionately.
18,19
A paradoxical situation, in which poverty and high levels of
overweight and obesity co-exist in urban settings, may be explained
by reduced levels of physical activity in all groups. Coupled with
rapid urbanisation, industrialisation and increased sedentary
lifestyles, these nutritional and demographic transitions have
ushered in the rapid emergence of non-communicable diseases,
including hypertension, diabetes, stroke, heart disease and other
cardiovascular diseases.
Despite direct correlations between BMI and WC, findings from
this situational analysis in Botswana suggest the need for new cut-
Figure 2.
Correlation between BMI (kg/m
2
) and WC (cm) in (A) 214 men with WC = 94.0 cm and (B) 203 women with WC = 80 cm as cut-off point. BMI, body mass
index; WC, waist circumference.
A
B
Figure 3.
Poor correlation between height and WC in (A) 214 men and (B) 203 women. WC, waist circumference.
A
B