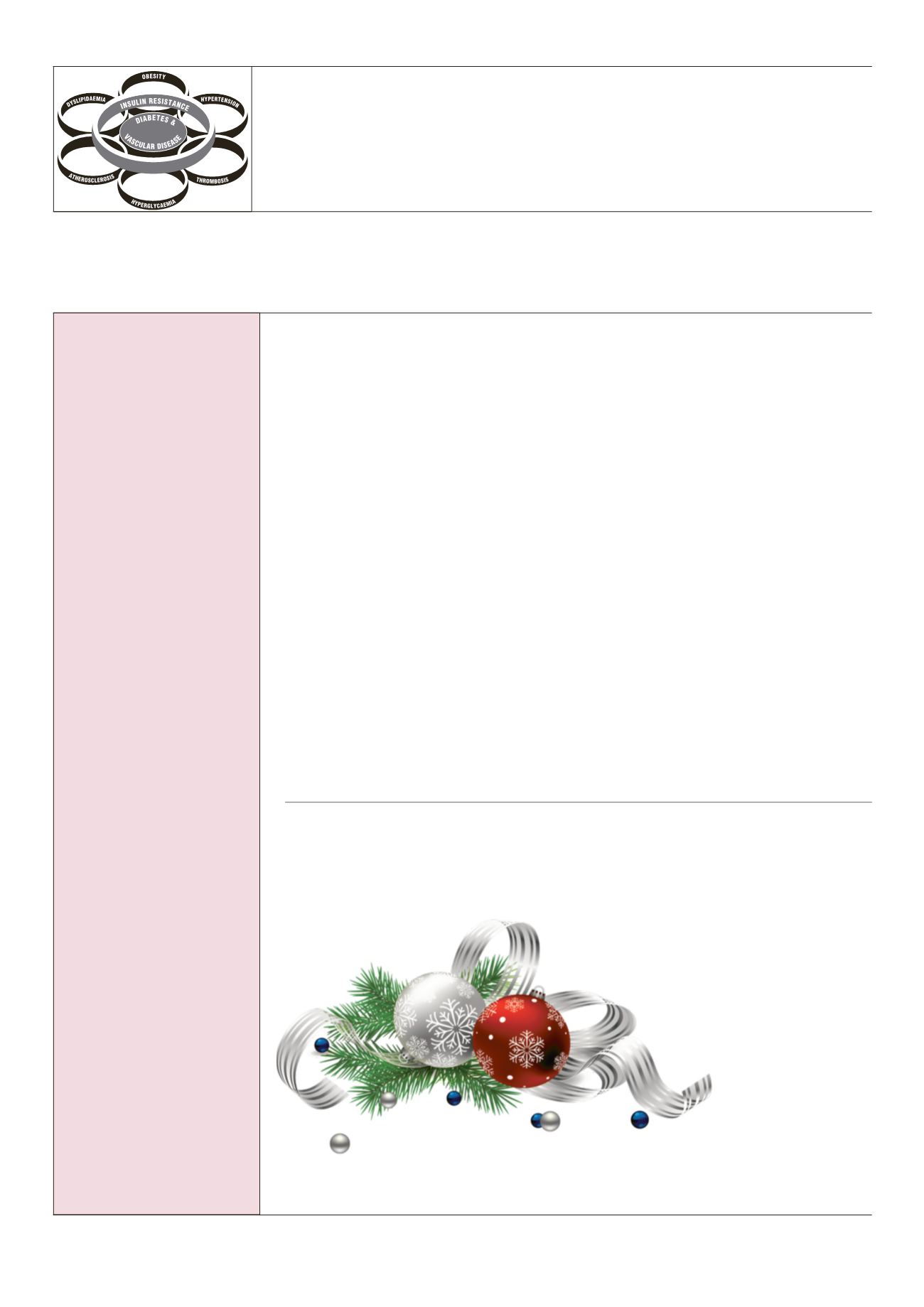 H
Y
P
E
R
I
N
S
U
L
I
N
A
E
M
I
A
ISSN 1811-6515
THE SOUTH AFRICAN JOURNAL OF
Diabetes & vascular disease
Corresponding Editor
DR FA MAHOMED
Department of Internal Medicine,
University of the Free State,
Bloemfontein
Consulting Editors
PROF J-C MBANYA
National Editorial Board
DR A AMOD
Centre for Diabetes, Endocrinology and
Metabolic Diseases, Life Healthcare,
Chatsmed Gardens Hospital, Durban
SR K BECKERT
Diabetes Nurse, Paarl
PROF F BONNICI
Emeritus Professor, Faculty of Health
Sciences, University of Cape Town and
President of Diabetes South Africa
PROF R DELPORT
Department of Family Medicine,
University of Pretoria
DR L DISTILLER
Director of the Centre of Diabetes
and Endocrinology, Houghton,
Johannesburg
DR F MAHOMED
Department of Internal Medicine,
Grey's Hospital, Pietermaritzburg
PROF WF MOLLENTZE
Head of Department of Internal
Medicine, University of the Free State,
Bloemfontein
PROF CD POTGIETER
Specialist Nephrologist, University
of Pretoria and Jakaranda Hospital,
Pretoria
PROF K SLIWA
Associate Professor of Medicine and
Cardiology, Baragwanath Hospital,
University of the Witwatersrand,
Johannesburg
PROF YK SEEDAT
Emeritus Professor of Medicine and
Honorary Research Associate,
University of Natal, Durban
International Editorial Board
PROF IW CAMPBELL
Physician, Victoria Hospital, Kircaldy,
Scotland, UK
PROF PJ GRANT
Professor of Medicine and head of
Academic Unit of Molecular Vascular
Medicine, Faculty of Medicine and
Health, University of Leeds; honorary
consultant physician, United Leeds
Teaching Hospitals NHS Trust, UK
PROF J-C MBANYA
Professor of Endocrinology, Faculty of
Medicine and Biomedical Sciences,
University of Yaounde I, Cameroon
and President, International Diabetes
Federation
PROF N POULTER
Professor of Preventive Cardiovascular
Medicine, Imperial College, School of
Medicine, London, UK
DR H PURCELL
Senior Research Fellow in Cardiology,
Royal Brompton National Heart and
Lung Hospital, London, UK
VOLUME 13 NUMBER 2 • DECEMBER 2016
www.diabetesjournal.co.za
CONTENTS
55
From the Editor's Desk
FA Mahomed
Research Articles
56 Left ventricular hypertrophy and geometry in type 2 diabetes patients with
chronic kidney disease: an echocardiographic study
MP Bayauli, FB Lepira, PK Kayembe, JR M'Buyamba-Kabangu
61 Cardioprotective and anti-hypertensive effects of
Prosopis glandulosa
in rat
models of pre-diabetes
B Huisamen, C George, D Dietrich, S Genade
68 Efficacy and safety of sirolimus-eluting stents versus bare-metal stents in
coronary artery disease patients with diabetes: a meta-analysis
Y Qiao, Y Bian, X Yan, Z Liu, Y Chen
The management and staff of Clinics Cardive Publishing (publishers of the Cardiovascular
Journal of Africa and the South African Journal of Diabetes & Vascular Disease) take
this opportunity to thank you for your loyal support during 2016, and we look forward to
being of service during 2017.
Wishing you and your family happy
holidays and a new year filled with
prosperity and success.
Please note our offices will close on 15 December and we will be open
from 09 January 2017.