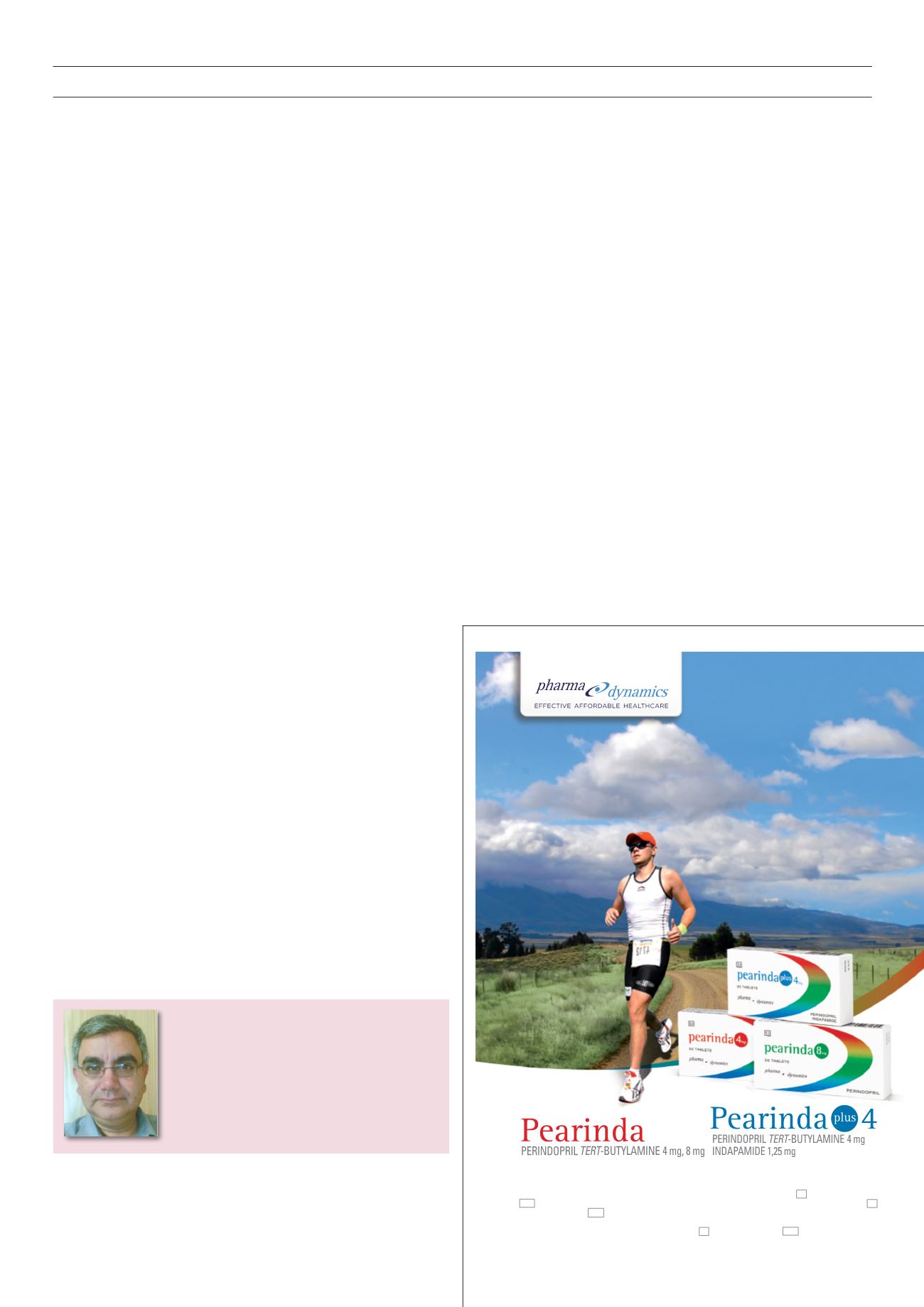 VOLUME 13 NUMBER 2 • DECEMBER 2016
55
SA JOURNAL OF DIABETES & VASCULAR DISEASE
EDITORIAL
From the Editor's Desk
Correspondence to: FA Mahomed
Department of Internal Medicine, University of the
Free State, Bloemfontein
e-mail:
MahomedFA@ufs.ac.za
S Afr J Diabetes Vasc Dis
2016;
13
: 55
B
ayauli
et al
. (page 56) show an association between chronic
kidney disease in diabetes and left ventricular hypertrophy.
Left ventricular hypertrophy is an important marker of disease
in African countries and can be a target in health programmes that
deal with hypertension and diabetes. Other interesting points in
this article are the high prevalence of the metabolic syndrome,
dylipidaemia and hyperuricaemia. It is clear from this article and
from articles in the previous issue of the journal that there are clear
markers of disease in African countries that can be the targets of
public health programmes, which will provide a cost-effective and
meaningful reduction in morbidity rates. National governments
in African countries should be directing their health ministries to
create public health programmes based on this clear data coming
from researchers in those countries. Programmes are established
in the Western world and can be adapted to the African setting.
1
The Indian experience points to the need for investment in public
health infrastructure and educational programmes for medical staff
and patients.
2
Onen has made a strong case for the creation of public health
programmes against non-communicable disease in the article about
the epidemiology of ischaemic heart disease in sub-Saharan Africa
(page 88). It is clear that there is a steady worsening of the risk
factors for cardiovascular disease and a concerted effort is needed
to prevent and manage these factors.
Huisamen
et al.
demonstrate the antihypertensive and cardio-
protective effect of
Prosopis glandulosa
(page 61). Its cardiovascular
effects outweigh its antidiabetic effects in this study, but other
studies show an interesting effect on insulin and glucose.
3
P glandulosa
is widely available in Africa and biochemical analysis
may yield novel drugs in both the hypertension and diabetes
fields.
Ferris and Crowther explain the complexities of fat metabolism
(page 81). With rising obesity rates, it is important to re-examine
fat's various roles, such as its thermo-regulatory role and endocrine
function, and its links to insulin resistance and cardiovascular
disease. The lipolytic products of fat have even been shown to be
involved in signalling to non-adipose cells in the body.
4
Sirolimus is a macrolide antibiotic that has potent anti-
proliferative effects and is useful for reducing stent re-stenosis.
5
Qiao
et al
. (page 68) analysed trials that compared sirolimus-eluting
stents with bare-metal stents in diabetic patients. They showed that
the rates of major cardiac events and target lesion revascularisation
were markedly reduced, although overall mortality rates were
unchanged. Overall safety and effectiveness were better with the
sirolimus-eluting stents.
Sherman and Weich introduce guidelines for the use of
transcatheter aortic valve implantation (TAVI) (page 97). Guidelines
are important in health resource-limited environments such as South
Africa. As our understanding of the use of these devices evolves and
costs decline, the overall usage of transcatheter valve replacements
will probably increase and become routine in its application.
Although older patients generally do well with conventional aortic
valve replacement, the TAVI is a useful alternative where patients
have a high operative and/or anaesthetic risk.
6
References
1.
Jaffe MG,
et al.
Improved blood pressure control associated with a large-scale
hypertension program.
J Am Med Assoc
2013;
31
0(7): 699–705. Available at:
http://www.ncbi.nlm.nih.gov/pubmed/23989679.
2.
Chauhan LS. Public health in India: issues and challenges.
Indian J Public
Health
2011;
55
(2): 88–91. Available at:
http://www.ncbi.nlm.nih.gov/
pubmed/21941042.
3.
George C, Lochner A, Huisamen B. The efficacy of Prosopis glandulosa
as antidiabetic treatment in rat models of diabetes and insulin resistance.
J Ethnopharmacol
2011;
137
(1): 298–304.
4.
Zechner R,
et al
. Fat signals – Lipases and lipolysis in lipid metabolism and
signaling.
Cell Metab
2012;
15
(3): 279–291.
5.
Abizaid A. Sirolimus-eluting coronary stents: A review.
Vasc Health Risk Manage
2007;
3
(2): 191–201.
6.
Clayton B, Morgan-Hughes G, Roobottom C. Transcatheter aortic valve insertion
(TAVI): A review.
Br J Radiol
2014;
87
(1033).
Pearinda 4.
Each tablet contains 4 mg perindopril
tert
-butylamine. Reg. No.: RSA S3 41/7.1.3/0649. NAM
NS2 10/7.1.3/0476.
Pearinda 8.
Each tablet contains 8 mg perindopril
tert
-butylamine. Reg. No.: RSA S3
41/7.1.3/0650. NAM NS2 10/7.1.3/0477. For full prescribing information, refer to the package insert approved
by the Medicines Control Council, April 2009.
Pearinda Plus 4.
Each tablet contains 4 mg perindopril
tert
-
butylamine and 1,25 mg indapamide. Reg. No.: RSA S3 41/7.1.3/0633. NAM NS2 10/7.1.3/0611. For full
prescribing information, refer to the package insert approved by the Medicines Control Council, April 2010.
1)
Department of Health website
http/
/www.doh.gov.za
– Accessed on 26/03/2015.
PAD168/04/2015
CUSTOMER CARE LINE
0860 PHARMA (742 762)
www.pharmadynamics.co.za
Need
endurance
when treating
CVS disease?
the affordable
5
endurance
ACE-inhibitor
A Lupin Group Company